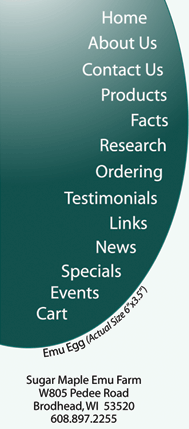 About emu meat

American emus are generally raised without the use of antibiotics or growth hormones.
The emu is from the ratite family and is a cousin of the ostrich.
Today's health conscious consumers who love the taste of traditional red meat, but desire lower cholesterol, fat, and calories are discovering emu meat.
WISCONSIN STUDY SAYS EMU MEAT LOWER IN FAT, HIGHER IN PROTEIN AND OTHER NUTRITIONAL NEEDS -- Two year study completed

| | |
| --- | --- |
| | Some say emu meat is a nutritional gold mine. Others call it the super food of the new millennium. |
| | Recent results from a study of alternative red meats by The University of Wisconsin-Madison confirm early reports, finding emu lower in fat and higher in protein and other nutrients - when compared with bison, venison, elk and ostrich. Additional comparisons found emu meat lower in fat than chicken, turkey, pork, and beef. |
| | Neil williams, president of the American Emu Association, said the project results went beyond all expectations of the American emu farming community. |
| | Begun in 1998, the two-year research project was founded by the United States Dept. of Agriculture's state marketing improvement program and the Wisconsin Dept. of Agriculture, Trade and Consumer Protection. Along with other research goals accomplished, the study also provided important data to the USDA's respected Nutrient Database for Standard References the primary database used by dieticians, the medical community, food professionals and consumers to understand the composition of various foods. |
| | The American Heart Association recently included emu meat in its listing of heart-healthy meats, said Williams, and Barry Sears, internationally-known author of The Zone recently included emu meat in his diet recommendations. So, we were hopeful that emu would be a positive in this study. What we didn't anticipate was emu meat's nutritional values when compared to other meats. |

The tenderness and texture of emu meat enable it to be prepared in a variety of ways. It is best prepared lightly grilled, pan fried, or sauteed.
Nutritional Comparison of Meats
| | | | | | | | | |
| --- | --- | --- | --- | --- | --- | --- | --- | --- |
| | RDI5 | Venison1 | Ostrich1 | Emu1 | Bison1 | Beef2 | Turkey2 | Elk1 |
| Protein (gm) | 50 | 26.5 | 26.2 | 28.4 | 24.2 | 25.0 | 27.4 | 26.6 |
| Fat (gm) | <654 | 8.2 | 7.1 | 4.7 | 14.8 | 16.4 | 13.2 | 8.4 |
| % Saturated fat3 | -- | 52 | 30 | 25 | 44 | 39 | 26 | 48 |
| Cholesterol (mg) | <300 | 98 | 83 | 87 | 85 | 81 | 102 | 78 |
| Iron (mg) | 18 | 304 | 304 | 5.0 | 3.1 | 2.4 | 1.9 | 3.3 |
| Calories (Kcal) | -- | 189 | 175 | 164 | 237 | 255 | 235 | 190 |
| Copper (mg) | 2 | .13 | .14 | .24 | .21 | .09 | .09 | .14 |
| Sodium (mg) | <2400 | 78 | 80 | 65 | 67 | 70 | 107 | 85 |
| Magnesium (mg) | 420 | 23.9 | 22.6 | 28.7 | 19.8 | 21 | 24 | 23.7 |
| Manganese (mg) | -- | .013 | .017 | .030 | .010 | .016 | .020 | .011 |
| Phosphorus (mg) | 1000 | 228 | 224 | 269 | 184 | 160 | 196 | 221 |
| Potassium (mg) | -- | 364 | 323 | 375 | 306 | 312 | 270 | 354 |
| Selenium (mcg) | -- | 10 | 34 | 44 | 35 | 19 | 37 | 17 |
| Zinc (mg) | 15 | 5.2 | 4.3 | 4.6 | 4.3 | 5.4 | 2.9 | 6.6 |
| Folic Acid (mcg) | 420 | 8.2 | 14 | 9 | 15.1 | 9 | 7 | 7.7 |
| Vitamin B12 (mcg) | 6 | 2.3 | 5.7 | 8.5 | 2.3 | 2.0 | .33 | v2.6 |
| Vitamin B6 (mg) | 2 | .47 | .50 | .83 | .37 | .27 | .39 | .42 |
| Thiamin (mg) | 1.2 | .50 | .21 | .32 | .12 | .06 | .05 | .13 |
| Niacin (mg) | 16 | 9.3 | 6.6 | 8.9 | 4.9 | 4.7 | 4.8 | 5.3 |
| Riboflavin (mg) | 1.3 | .33 | .27 | .55 | .26 | .26 | .17 | .32 |

Shaded areas indicate most desired in that classification

(gm=grams, mg=milligrams, mcg=micrograms, Kcal=kilocalories)

1= Source: University of Wisconsin-Madison, June, 2000 Alternative Meat Study funded by USDA

2= Source: United States Department of Agriculture Nutrient Database for Standard Reference

3= Percent of fat composed of saturated fatty acids

4= Based upon 2000 calorie diet

5= Reference Daily Intake (National Academy of Science)