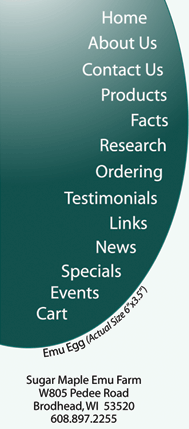 Our January 2019 move is complete.
We have moved once again ! Products ordered will, once again, be shipped within 3 days.
Click Here For More Details
We do not ship emu meat.
Sugar Maple Emu Farm is licensed by the State of Wisconsin to sell USDA & Wisconsin State inspected emu meat at the farm. All emu meat is quick frozen at the processing plant to insure quality & freshness. Call for prices and availability.

EMU MEAT IS NO LONGER AVAILABLE
at
SUGAR MAPLE EMU FARM
Brodhead, WI


We are no longer raising emu and we will no longer be handling emu meat.



cooking tips

recipes

research

nutritional chart & info


Emu is listed as a "healthy red meat" on the American Heart Association website.

***