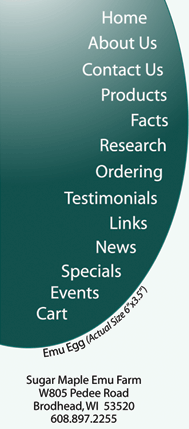 Mission Statement
Sugar Maple Emu Farm is an emu breeding, hatching and growing facility along with a retail and wholesale emu product business that, together, produce, distribute and sell quality emu and emu related products with the highest concern for the welfare and satisfaction of our customers.



Business Name:
Sugar Maple Emu Farm
Owners/Operators:
Joylene & Michael Reavis, Sr
Address:
W805 Pedee Road
City, State & Zip:
Brodhead, WI 53520
Home:
1-608-897-2255
Business:
1-608-897-8224
Toll Free:
1-866-608-8224
Size of Farm:
10 Acres
Core Business:
Raising emu.
Seasonal farm tours by appointment.
Retail, Wholesale, Online, and Mail Order sales of emu oil, emu oil products, emu leather, emu egg shells, painted emu eggs and emu related products along with on-farm retail sales of State and UDSA Inspected emu meat and emu meat products.
Number of Birds:
From 25 to over 200
Years of Experience:
Raising Emu Since 1995

Participation:
Wisconsin Emu Association (WIEA) Board of Directors
WIEA President Since 2000
American Emu Association (AEA) National Director since 2007
Accredited Emu Producer (AEP) - certified since 2001
AEA Chairwoman - "National Emu Week" (N.E.W.)
Member:
American Emu Association (AEA)
Wisconsin Emu Association (WIEA)
Brodhead Chamber of Commerce member
Wisconsin Farm Bureau Federation (WFBF)
Emu Producers of America (EPOA)
AEA Certified Business Member (CBM)
Wisconsin Ag Tourism Association (WATA) member
"Something Special from Wisconsin" member


Click here for a brief Bio about the Sugar Maple Emu Farm.

Click here for a brief history of the American Emu Industry.