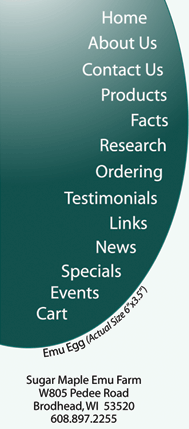 Mission Statement
Sugar Maple Emu Farm started in 1995 as an emu breeding, hatching and growing facility along with a retail and wholesale emu product business that, together, produced, distributed and sold quality emu and emu related products.

Today, although Sugar Maple Emus moved off their emu farm in late 2017 and no longer raises emus, it continues as an emu related business that sells quality emu oil and emu oil products through their website, with the highest concern for the welfare and satisfaction of their customers.



Business Name:
Sugar Maple Emu Farm
est. in 1995 by Joylene & Michael Reavis, Sr
Owners/Operators:
Joylene Reavis
Address:
632 3rd Ave APT #5
City, State & Zip:
Monroe, WI 53566
Home:
1-608-897-2255
Business:
1-608-897-8224
Core Business:
Wholesale, Online, and Mail Order sales of emu oil, certified by the American Emu Association (AEA) and emu oil products.
Years of Experience:
Raising Emu Since 1995 and selling emu oil products since 2000.

Participation:
Wisconsin Emu Association (WIEA) Board of Directors
WIEA President Since 2000
American Emu Association (AEA) National Director since 2007
Accredited Emu Producer (AEP) - certified since 2001
AEA Chairwoman - "National Emu Week" (N.E.W.)
Member:
American Emu Association (AEA)
Wisconsin Emu Association (WIEA)
Wisconsin Farm Bureau Federation (WFBF)
Emu Producers of America (EPOA)
AEA Certified Business Member (CBM)
"Something Special from Wisconsin" member


Click here for a brief Bio about the Sugar Maple Emu Farm.

Click here for a brief history of the American Emu Industry.